Five of the best places to relax in Northern California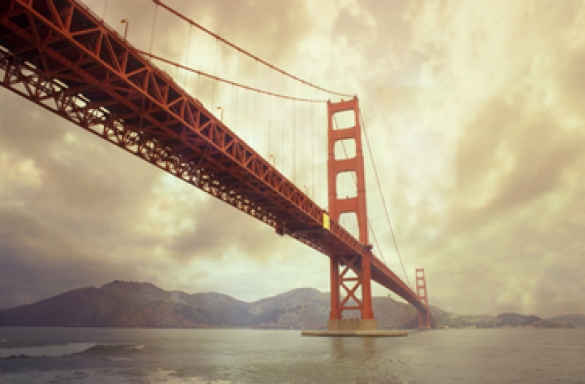 Plan your R&R vacation in Northern California. Start with the Golden Gate—both the bridge and the park.
1) Bike Across Golden Gate Bridge
The bridge crossing is wonderful. You can cycle over the bridge, sight see and have lunch in Sausalito, which is fabulous, and take the ferry back to Fisherman's Wharf. This is also the best place to start from. The bike rental companies provide everything you need from helmets, to maps to ferry schedules, usually. The routes they recommend, with the Whart as starting point, will take you past Fort Mason, Marina Green, wonderful view spots for the Bay and the islands, into the Presidio... you'll be so full of spectacular scenery by the time you head up the hill for the bridge—you'll probably be overwhelmed.

See this great writeup of what to see and do and where to stop for snacks and refereshments—great helpful tips on everything you need to know, includlng don't leave lining up for the return journey on the ferry to the last minute.
2) See Golden Gate Park End-to-End on Two Wheels
Don't miss anything in the largest urban park west of the Missiissipi and, again, do it on a bike. There are plenty of places to rent bikes and so much to see, it's great to start early and plan for all day so you can meander where you please. You can take in as many tourist attrations as you have time for, or just have a peek for now and return later, from the Botanical Gardens to the Japanes Tea Garden, de Young Museum, California Academy of Sciences--and the park itself. Make sure you stop and sit on the grass, watch the family gatherings and sports going on everywhere. Choose a Sunday so there's less traffic, as the JFK will be shut to cars, and the park will be full of tourist and locals having some down time. Make sure to go all the way to Ocean Beach and San Francisco's most western point at Cliff House should be on your menu, too.
3) Sit Back in Mendocino
Your cares will probably slip away as soon as you drive into this Victorian village on California's north coast that looks more New England than west coast. Whether you want to lay your head down in a Victorian B&B with white picket fences, a rental cottage, or an upscale spa resort, you can find them all within a short drive. Mellow and cute are two words that best desribe Mendocino—to feel the first, try to avoid weekends when it's a hot draw for folks from the Bay Area. Also take the time to enjoy the drive up here, if you're travelling from San Francisco. It takes you off the beaten track—take time for the Redwoods, the parks, the country vistas, and the sea itself. Lots of details on where and when and how to make this lovely part of coastal California your R&R spot at Lonely Planet.
4) Look Up at the Redwoods
There's something about trees, especially the tallest ones on earth—the sequoias—that creates calm and serenity when you stand under them and simply look up. On your list will probably be the old growth groves in Muir Woods, across the bay from San Francisco on Mt. Tamalpais, but it's on every tourists' must see list, most likely. And it gets crowded, because it's such a short drive from the city. So go off season or weekdays to be able to enjoy some peace. Also look for these stupendous Coastal Redwoods in various parks from Yosemite (4 hours east of SF) to .Big Basin Redwoods State Park (south of SF) or, if you're going to Mendocino, make a detour to Prairie Creek Redwoods State Park. To see the Giant Sequoias, you need to go to the Sierra Nevadas (and take, maybe, a side trip to Tahoe?) Directions and more information.
5) Sit and Think in Monterey
Take the road (roads) to Monterey to relax and enjoy the quiet. Best advice is to choose either Highway 1 from San Francisco--which may be foggy and or busy at certain points, such as Santa Cruz, or take the 280/85 route (not 101 direct as heavily traveled!). Tips on routes here. Highway 1 takes about 3 hours, the alternate is faster. There's loads to do and explore in Monterey, tons of great eateries, and the city of Monterey itself, not to mention Carmel, the 17 Mile Drive, Pebble Beach, the Aquarium, walk in Steinbeck's footsteps and tour the museum/Steinbeck Center in Salinas, Cannery Row—it's hard to choose. But if you can't get there just yet— watch the webcam and see what's happening in Monterey from where you are.
Or listen to Sinatra re Monterey or Eric Burdon & The Animals
Related Stories
Post your comments