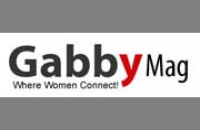 Gabby Mag
GabbyMag helps women connect—a virtual Main Street where we can meet and chat, support and exchange (with a lively undercurrent of shopping!). We'll showcase budding talents, established names, and you.
We want to be an incubaor: help women in business grow and connect to those they want to reach with news and support (and fun and shopping!) Sign up for your Free Directory Listings during launch to get your word out with the gift of the gab.
To help make Gabby's village yours and the first stop, join as a member (free during startup) and post and submit your source for news, tips, links, bargains, deals, site finds (and shopping!), please tell us what's new for you, so we can include that, too. And if you're a business—list in GabbyMag directory for free during launch, enter our contests, and grow with us. To show your stuff in GabbyShops or ask to be in one of our sponsor spots, contact for rate sheet.
Website:
Contact Info:
GabbyMag.com