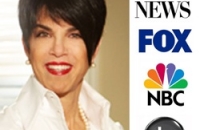 Maxine Warsh Facial Rejuvenation
How to always look as wonderful as you feel...
Many thousands of happy faces swear by Maxine Warsh anti-aging microcurrent and natural skincare and complexion products. Renew, revive, and rejuvenate with the professional level cosmetic microcurrent MDX MiniPro Beauty for anti-aging and the battle against wrinkles at home, a full range of all-natural preservative and chemical-free skincare products, and the best-selling WARSH Cloth 3-in-1 Makeup Remover and natural exfoliator that cleanses with water only and can be used again and again. Warsh Cloths are available on Amazon and via MaxineWarsh.com for Her, for Baby, for Teens, for Acne, and for Him.
Maxine Warsh also offers anti-aging and skin care renewal training and products to operators (spas/others looking for a new source of income or to run from home without investment/ in this major growth industry.) A number of retailers carry the line of Warsh Cloths.
Website:
Contact Info: